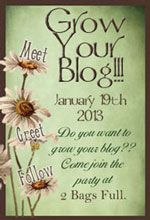 Hi Everyone
Its me DeeDee owner and curator of DeeDee's Craft Spot
I started my blog several years ago for an outlet
For All the fun stuff I love to create and create and create...
Crafting and Creating are a part of my everyday life
Most of my blog is my place to share
I have tried many different places to share
Message Boards,Facebook Groups, Photobucket
All of these were filled with drama,
Or some other Not so fun stuff
So my blog was born...
Here it is just me
And all of you...
I love the comments left by my followers
Who really want to share
With me ..
And I love to be able to post what ever is
My fancy for this day
I have been blessed
With many of my current friends thru blogging
So you could say
This venture has been an
Awesome experience
For me!!
I work in the rail road industry and work wonky hours
My job is a challenge everyday
But ya know what .. I love it!!
But it leaves me on a different stress level
I need to relieve the masses in my brain
I am sure you can relate..
My brain is consumed with Creating
In everything I do
I have been away for a bit due to medical issues
Now I hope to return to my place
To Share and Create.
And share it with you
I hope you can join me too..
I have some fun places I create thru
With some very fun ladies too
I will share those as I go
I met Vicki thru three of my friends
One is a local friend and fellow crafter


Sue Kosac
I am going to retreat with her soon..
She treated me with this
Gift...and I cannot wait!!!.
And another is a blog-land friend named Deb from
I have known her for several blog-land years..
She is a creative influence indeed
She leads me to fun new projects often
And also another blog-land friend named Tammy from
She Lives in Kuwait.. and is a lovely soul
So very caring and shares her adventures in life
So Vicki and I are connected in ways we didn't know of until now.
I also joined in on another venture with Vicki from her blog
This is in support of Breast Cancer and you can join in too
Check it out at the link below
I am working on mine as we speak
Its for a great cause!! and can happen to any of us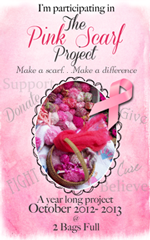 If this all doesn't peek your interest follow the blog hop to meet tons and Tons of fellow bloggers and soon to be friends.
Meet Vicki and see all the lovely eye candy you can imagine thru her
Creative side.. you won't want to miss this.,..
Trust me!!!..
This is why I started my blog .. to Create, to Share and to
Make new Friends
Will you be my next new friend??
My friends span the world
And I get to craft with them everyday.!!!
What more could a girl want
Here on my blog you will see mostly my crafty creations
A bit about my boys
Bentley and Chuck
Once in awhile a little bit of personal stuff sneaks in too.
I hope I can get into video so I can make tutorials
I love to watch them and I love to teach
So this will be a perfect combination for me...
Its my goal
So hop on over to
To meet Vicki, she will lead you to so much more


WAIT!!!! There's More!!
I also am offering a small giveaway to all who leave a comment
This is a lovely shopping bag hand made by me
Just for one lucky you
Please leave comment with a
Email address for me to contact you
And I will choose by random.org
a winner
On February 1st. 2013
Thanks for visiting me today..
Happy Trails