I took the plunge and signed on to have my room on
Where Bloggers Create 2011
Thanks for hosting such a fun event Karen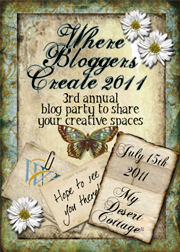 My Desert Cottage
My room isn't going to compare with most you will see,
But I wanted to share the link so you can take
The tour of rooms, spaces and places
including mine
Turn on the lights and come on in
My new invention
A broken computer chair and a broken kitchen chair
Matched up to make a great Studio chair.
Nice and cushy with suspension
Love it!
All my chairs are done in this manner now
Some major dumpster diving went into
This project...lol.. if people only
Knew thier trash is truely no
My treasure.